Описание
Echo Express SE IIIe
3-slot Desktop Thunderbolt 3 Expansion System for PCIe Cards
Connect Three Full-height, Half-length+ PCIe Cards to Computers with Thunderbolt 3 Ports
Although thin Mac®, Windows®, and Linux® computers with Thunderbolt™ 3 ports offer processing power to spare, for many users (such as pros in the creative fields) onboard processing power alone is not enough. Sonnet's Echo™ Express SE IIIe is a compact, desktop Thunderbolt™ 3 to PCIe card expansion system that enables you to connect three professional PCIe cards at the same time to any computer with Thunderbolt 3 ports.
The Thunderbolt 3 Connection
This compact desktop expansion system supports three professional PCIe cards (video capture; audio DSP; 6Gb or 12Gb SAS or SATA host bus adapter; 10Gb, 25Gb, or 40Gb Ethernet; or RAID controller; etc.) and connects them to your computer through a single Thunderbolt 3 cable.
Key Features
Connect PCIe Cards
Use multiple high-performance PCIe cards with any computer with a Thunderbolt 3 port.
Three PCIe 3.0 x8 Slots
Supports three full-height, half-length+ (up to 7.75 inches long), single-width cards, or one double-width card plus one single-width card.
40Gbps Thunderbolt 3 Interface
Offers 2750 MB/s of PCIe bandwidth, doubling the performance capabilities of Thunderbolt 2.
Pro Performance. Compact Design.
Takes up little space on the desktop, but large enough to support nearly every Thunderbolt-compatible non-GPU PCIe card at full performance.
Two Thunderbolt 3 Ports
One port connects to computer; second port supports daisy-chaining of up to five additional Thunderbolt peripheral devices.
Remarkably Quiet
Temperature-controlled, variable-speed fan automatically and quietly cools the cards.
Energy Saver Mode
Powers on/off automatically with the computer.
Rugged Aluminum Housing
Provides robust and secure protection.
Pro Power
Auxiliary PCIe power connector for a power-hungry card; daisy chain port provides up to 15W of power to connected peripherals.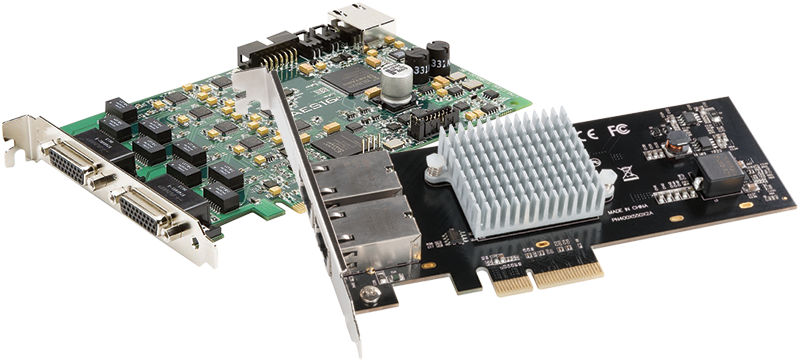 Nearly Every Thunderbolt-Compatible, Non-GPU PCIe Card Supported
Smaller than the 3-slot Echo Express III-D (Thunderbolt 3 Edition), the Echo Express SE IIIe is still large enough to support nearly every Thunderbolt 3 compatible card available. With its three x8 slots, the SE IIIe supports PCIe 3.0, PCIe 2.0, and PCIe 1.1 cards up to 7.75 inches long. Do you have a card in mind but aren't sure it's compatible? We've put together a list in our supporting PCIe Card Thunderbolt Compatibility Chart (PDF). There you'll find cards identified as conforming to Thunderbolt technology requirements, and organized by fit and power compatibility with specific expansion system.